New Audiobooks for Spring
Over the next few weeks we'll be adding lots of new audiobooks to our catalogue including award winners, bestsellers, trail-blazing debuts and many, many more!
We've picked just nine of these upcoming new additions to give you a sneak peak of what we've got in store for you this Spring!
Hamnet - Maggie O'Farrell
Maggie O'Farrell's latest book gained a lot of buzz from when it was first published, and it's gone on to win the Waterstones Book of the Year in 2020 and also the 2020 Women's Prize for Fiction!
The story is inspired by Shakespeare's only son and his most famous play. On a summer's day in 1596, a young girl in Stratford-upon-Avon is struck down by fever. Her twin brother, Hamnet, searches everywhere for help. Their mother, Agnes, is over a mile away, in the garden where she grows medicinal herbs. Their father is working in London. Neither parent knows that one of the children will not survive the week.
The Killings at Kingfisher Hill - Sophie Hannah
We know you love Sophie Hannah's Poirot novels, and this latest looks to be just as popular!
The great detective has been summoned by Richard Devonport, to prove that his fiancée is innocent of the murder of his brother, Frank. There is one strange condition attached to this request: Poirot must conceal his true reason for being there from the rest of the Devonport family.
Whilst travelling on a coach to the Devonport's Kingfisher Hill estate, a distressed woman leaps up, demanding to disembark. She insists that if she stays in her seat, she will be murdered. A seat swap is arranged and all seems well – except for the bad feeling Poirot has about the whole incident. Could the scene on the coach be a clue to solving the mystery of who killed Frank Devonport? And can Poirot find the real murderer in time to save an innocent woman from the gallows?
Failosophy - Elizabeth Day
If you listened to Elizabeth Day's first book, How to Fail, but still feel like you need a little reassurance for when things don't go to plan (don't we all), then make sure you listen to her second book all about how we can learn and grow from our failures!
Practical, reassuring and inspirational, Elizabeth's 'seven principles of failure' offer a guide through life's rough patches. From failed exams to romantic break-ups, from career setbacks to confidence crises, from navigating anxiety to surviving loss, Failosophy embraces the fact that failing makes us human and connects us all.
The Tawny Man Trilogy - Robin Hobb
We're adding not one, but three audiobooks by fantasy writer Robin Hobb!
The Tawny Man Trilogy is the third series in the Realm of the Elderlings and consists of Fool's Errand, Golden Fool and Fool's Fate. Set over 15 years after the end of the Red Ship Wars, it continues the story of FitzChilvary Farseer and revisits many characters from The Farseer Trilogy.
You can also find other series from the Realm of the Elderlings in our catalogue, including The Farseer Trilogy, The Rain Wild Chronicles and The Fitz and the Fool Trilogy.
How the One-Armed Sister Sweeps Her House - Cherie Jones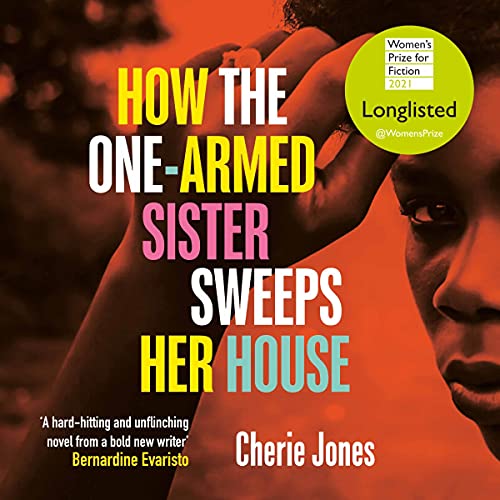 Cherie Jones' powerful debut novel has been longlisted for the 2021 Women's Prize for fiction!
In Baxter's Beach, Barbados, Lala's grandmother, Wilma, tells the story of the one-armed sister, a cautionary tale about what happens to girls who disobey their mothers. For Wilma, it's the story of a wilful adventurer, who suffers after ignoring the warnings from those around her. When Lala grows up, the story offers her hope after losing a baby in the most terrible of circumstances and marrying the wrong man.
How the One-Armed Sister Sweeps Her House goes deep into the beautiful island paradise of its setting, beyond the sandy beaches and wealthy tourists, to reveal poverty, violence and the story of the sacrifices some women make to survive.
The District Nurses of Victory Walk - Annie Groves
The first in The District Nurse series by family saga author Annie Groves. Alice Lake has arrived in London from Liverpool to start her training as a District Nurse, but her journey has been far from easy. She's had her heart broken before – which is why she's resisting her parent's wishes for her to settle down and get married.
Alice and her best friend Edith are based in the East End, but before they've barely even got started in their new jobs, war breaks out and Hitler's bombs are falling on London. Alice must learn to keep calm and carry on as she tends to the sick and injured, all the time facing her own heartache and misfortune while keeping up the Spirit of the Blitz…
To The Greatest Heights - Vanessa O'Brien
This is the empowering story of Vanessa O'Brien – who became a climber in her late forties and has conquered Everest, K2 and many other mountains.
When Vanessa O'Brien was made redundant in 2008 as part of the recession, she moved to Hong Kong with her husband for his career and resigned herself to being 'just the wife'. She was 46, bored, uninspired, unemployed. Was this it, for the rest of her life?
One night in the infamous Kee Club, over shots of tequila, a friend suggested O'Brien climb Everest, and that was the start of an epic journey she never looked back from. In her inspirational story, she explains how she could not have got to the top of K2 at the age of 52 without being honest about what came before. She reveals the trials and tribulations of her difficult childhood, and the result is a life-affirming book that shows how she achieved these climbs in spite of and because of her past.
The Night Hawks - Elly Griffiths
Ever popular Elly Griffiths' heroine Dr Ruth Galloway returns for the thirteenth installment in this addictive series!
The Night Hawks, a group of metal detectorists, are searching for buried treasure when they find a body on the beach in North Norfolk. At first Nelson thinks that the dead man might be an asylum seeker, but he turns out to be a local boy, recently released from prison.
Nelson is called to a gruesome incident at the isolated Black Dog Farm. Local legend talks of the Black Shuck, a spectral hound that appears to people before they die. Nelson ignores this, even when the owner's suicide note includes the line, 'He's buried in the garden'. Ruth excavates and finds the body of a giant dog. All roads lead back to this farm in the middle of nowhere, but the place spells serious danger for anyone who goes near. Ruth doesn't scare easily. Not until she finds herself at Black Dog Farm...
The Betrayals - Bridget Collins
If you enjoyed Bridget Collins' brilliant debut The Binding, we're sure you'll be just as keen as us to listen to her second novel, The Betrayals.
It's the story of Montverre, an exclusive academy tucked away in the mountains, where the best and brightest are trained for excellence in the grand jeu: an arcane and mysterious contest. Léo Martin was once a student there but lost his passion for the grand jeu following a violent tragedy. Now he returns in disgrace, exiled to his old place of learning with his political career in tatters.
Montverre has changed since he studied there, even allowing a woman, Claire Dryden, to serve in the grand jeu's highest office of Magister Ludi. When Léo first sees Claire he senses an odd connection with her, though he's sure they have never met before. Both Léo and Claire have built their lives on lies. And as the legendary Midsummer Game, the climax of the year, draws closer, secrets are whispering in the walls...
What audiobook are you most excited to borrow? Let us know in the comments!