Our Top PressReader Picks and Tips
Our Top PressReader Picks and Tips
Did you know that you have access to thousands of newspapers and magazines as a Listening Books member? That's right – we don't stop with audiobooks. Through PressReader, you can find almost any newspaper or magazine you can imagine! There are absolutely no restrictions, no extra charges, and – best of all – it won't affect your audiobook allocation! With so much choice, it might be hard to know where to start, so the Listening Books Team have got together to highlight just some of our favourites in the catalogue and provide some helpful tips you might not know about. Simply log-in via the Listening Books website to access all of our recommendations and thousands more!
Our Top PressReader Picks
Claire, Deputy Membership & PR Manager
Good Housekeeping
A great mix of interest stories, fashion and health advice, as well as recipes for the season and much more. I always pick up handy tips for the home, or improving something I need help with, or even a great book recommendation. The shorter articles mixed with longer pieces mean I can find something to read no matter how much time I've got available.
Empire
Full of movie and TV news, I love the interviews and reviews, and the upcoming shows I should look out for.
Jess, Audio Producer
Frankie
A new find for me. It's an Australian lifestyle magazine 'for the creative and curious' with gorgeous illustrated covers and all the features you would expect from a lifestyle magazine (fashion, advice, reviews, recipes, personal essays, etc), but with a quirkier vibe.
Gardeners' World
Lots of timely advice and inspiration for beginners as well as seasoned gardeners.
Piah Uddin, Membership Services Assistant
BBC Sky at Night
My favourite magazine for keeping up with astronomy and space-related news. It's a wonderful resource that has something for everyone - gorgeous astrophotography, tips for amateur astronomers, scientific articles with the latest developments in the field, and so on.
Annabel Morgan, Membership and Marketing Assistant
Rolling Stone
A classic for a reason, Rolling Stone keeps me in-the-know with new releases and big news in the music industry, as well as entertained with their interviews of global stars. Their insightful coverage of pop culture and politics in addition to music is what makes this iconic magazine stand out for me.
Louise, Membership & PR Manager
The Guardian
My go-to for a general round up of everyday news.
The Week Junior
A fantastic round up of news from around the world for younger readers. Including debate, interesting science and technology news and fascinating stories from the UK and rest of the world.
Edward Herring, Membership Support Officer
The Non-League Paper
There's the Premier League, the Champions League, La Liga, Bundesliga . . . but for everything else, there's The Non-League Paper. Want to know what happened at the weekend between Rochdale and Southend United? Sorted. Want to read about how Altrincham ruined Oxford City's day? You got it. Want to know all the latest details about Aldershot, Wealdstone, Scunthorpe, Buxton, Matlock Town or Marske Utd? For in-depth reporting of the smalltown teams, Non-League Paper's got the assist. Perfect for the footy superfan in your life. Back of the net!
Jeremy, Senior Membership Officer
Delicious
I have thoroughly enjoyed all of the recipes I have ever tried in the magazine!
Robert Marchant, Development and Operations Manager
SÁBADO
SÁBADO is a Portuguese-language weekly publication packed full of interesting articles about Portugal's history and society.
World Soccer
World Soccer gives a truly global perspective to the beautiful game. This monthly publication contains a real breadth of expert analysis and opinion on the world's favourite sport.
Bill Dee, CEO
The Economist
A great source for understanding events, cycles and trends and the determinants behind them that shape our world.
Godelieve de Bree, Membership and Recruitment Administrator
New York Review of Books
Being able to read the New York Review of Books on Pressreader means I'm able to be up to date with all the latest literary news, reviews and the work of some of my favourite writers.
Amy Flinders, Publisher Relations Manager
Mojo
One of my go-to magazines when I was teenager – it's great to now be able to read/listen to it online! Lots of in-depth interviews and articles on an eclectic mix of rock and pop.
Our Top PressReader Tips
You can view back issues
Did you know that most publications have around 90 days to a year in back issues you can view too? Choose the publication from the main page as normal, but instead of clicking read now, scroll down to see back issues. The options are limitless with PressReader!
You can search for a title by language or country
On the main page, mid-way down to the right, you can select language or country to see publications specifically from those regions.
Once you're logged in to PressReader from the Listening Books website, you can search for and listen to thousands of newspapers and magazines straight away. If you create your own account within PressReader, there is even more you can do! Such as…
You can translate articles into over 26 languages
With PressReader, you not only have access to hundreds of international publications, but can also translate articles in over 26 languages! While you can't use the 'Listen' function to listen in another language, if you have a screen reader, you can use that to listen the translated text too!
Here's how:
Create your account in the top right, or sign in. This is how it will look once you arrive from the Listening Books website –you can still access all the publications without signing up to PressReader.
Once you've signed into a PressReader account, choose a magazine or newspaper you would like to translate, then click on the green 'read now' button.
Scroll through the publication to find an article you would like translated. Click on that article, then go to the three dots at the top of the page on the right indicating menu; click 'translate' and choose your language!
You can search for your favourite author, celeb or topic
If you aren't sure what to read, but know what you like, you can search all articles and magazines for your favourite author, celeb or topic to find the right publication for you! Simply sign in to your PressReader account and click the search logo at the top of the screen (the magnifying glass)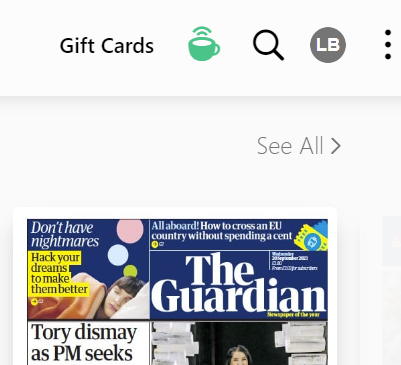 Then click on advanced search, entering what you would like to search for, such as 'Audiobook', and go!
We hope you enjoy our PressReader recommendations and go onto find your own favourites. Please let us know in the comments if you find something great – the team are always looking for new listens!
For more info, you can check out our website with the following link: https://bit.ly/3rjW7s6. Alternatively, give us an email at support@listening-books.org.uk. Happy listening!
Author: Annabel Morgan