The 20 Most Popular Audiobooks Added To Our Collection In 2022
The Listening Books Members' Choice Award is back for a second year!
We recently released a shortlist of twenty audiobooks added to our collection this year that have been most popular with our members. Just one of them will be crowned the winner of our Members' Choice Award 2022!
So, which books are in with a chance of winning this year? In case you missed the announcement, here are the shortlisted titles:
Amongst Our Weapons
Author: Ben Aaronovitch
Narrator: Kobna Holdbrook-Smith
The London Silver Vaults - for well over a century, the largest collection of silver for sale in the world. It has more locks than the Bank of England and more cameras than a celebrity punch-up. Not somewhere you can murder someone and vanish without a trace - only that's what happened. Detective Constable Peter Grant is under pressure to solve this case soon, but what he doesn't know is that he's about to encounter something - and somebody - that nobody expects...
To listen to this book, please click here.
The Summer That Changed Us
Author: Cathy Bramley
Narrator: Colleen Prendergast
For Katie, the sparkling seaside village of Merle Bay is the perfect hideout after a childhood trauma left her feeling exposed. For Robyn, the fresh sea air is helping to heal her scars, but maybe not her marriage. For Grace, a new start could help her move on from a heartbreaking loss. When they meet on Seaglass Beach one day, they form an instant bond and soon they're sharing prosecco, laughter - and even their biggest secrets...
To listen to this book, please click here.
The Case of the Smuggler's Curse
Author: Mark Dawson
Narrator: Mark Peachey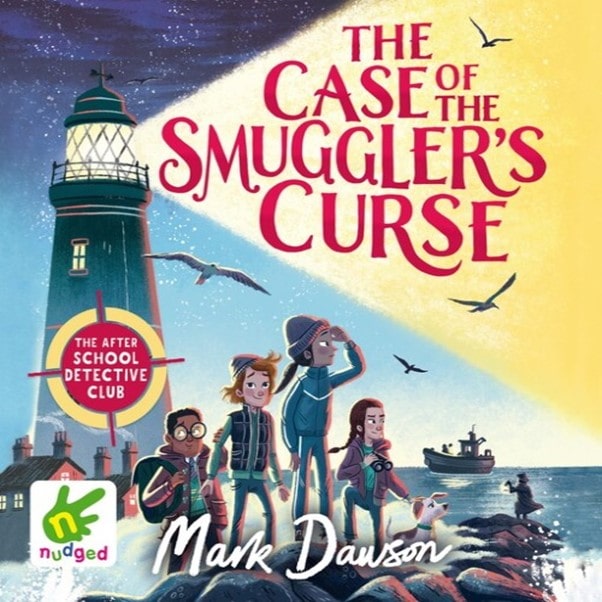 When Lucy, Max, Charlie, Joe, and Charlie's faithful dog, Sherlock, spot a phantom figure on Southwold beach one winter's night, they are thrown together to unravel a mystery that none of them expected. Just who is the ghostly spectre that walks the sands of Southwold with a lantern in his hand? What is the connection to the ancient curse that hangs over the town? And is the respectable Quentin De Havilland everything he pretends to be?
To listen to this book, please click here.
A Daughter's Hope
Author: Donna Douglas
Narrator: Anne Dover
Autumn, 1942. As the residents of Jubilee Row begin to rebuild their lives after the Blitz, twins Sybil and Maudie Maguire decide to join the WAAFs. But what starts off as a great adventure soon forces the girls to grow up as they are confronted with the harsh realities of war. Will they stick together, or will their experiences drive them apart? Back in Hull, their older sister, Ada, faces struggles of her own as she nurses the war wounded. But can anyone help to mend her own broken heart?
To listen to this book, please click here.
Lessons in Chemistry
Author: Bonnie Garmus
Narrator: Miranda Raison
It's the early 1960s and Elizabeth Zott's all-male team at Hastings Research Institute take a very unscientific view of equality. Except for one: Calvin Evans who falls in love with - of all things - her mind. But like science, life is unpredictable, and a few years later, Elizabeth Zott finds herself not only a single mother, but the reluctant star of America's beloved cooking show Supper at Six. Her unusual approach to cooking ('combine one tablespoon acetic acid with a pinch of sodium chloride') proves revolutionary. Elizabeth Zott isn't just teaching women to cook. She's daring them to change the status quo.
To listen to this book, please click here.
Neglected
Author: Cathy Glass
Narrator: Denica Fairman
When little Jamey first arrives with foster carer Cathy Glass, he is scared, hungry and withdrawn, craving the affection he has been denied for so long. He is small for his age and unsteady on his feet – a result of being left for long periods in his cot. Cathy and her family find Jamey very easy to love, but as he settles in and makes progress, a new threat emerges. Coronavirus and lockdown change everything.
To listen to this book, please click here.
The Locked Room
Author: Elly Griffiths
Narrator: Jane McDowell
Covid lockdown hits while Ruth Galloway is attempting to solve the mystery of a photo she found in her mother's house with the words "dawn, 1963" written on the back. She becomes friendly with Zoe, the renter next door, while standing on their doorsteps clapping for carers. DCI Nelson, meanwhile, is investigating a series of deaths of women and breaks curfew to visit Ruth. There he finds her chatting to her neighbour whom he remembers as a carer who was once tried for murdering her employer. Only then her name wasn't Zoe. It was Dawn.
To listen to this book, please click here.
No One Goes Alone
Author: Erik Larson
Narrator: Julian Rhind-Tutt
Pioneering psychologist William James leads an expedition to a remote isle in search of answers after a family inexplicably vanishes. Was the cause rooted in the physical world... or were there forces more paranormal and sinister at work? As increasingly unexplainable events unfold, the now-stranded investigators are unsure whether they can trust their own eyes, their instincts, one another - or even themselves.
To listen to this book, please click here.
Café con Lychee
Author: Emery Lee
Narrators: Kurt Kanazawa and Avi Roque
Theo Mori and Gabriel Moreno's parents own rival businesses - an Asian American café and a Puerto Rican bakery. Stuck in the closet and scared to pursue his own dreams, Gabi sees his family's shop as his future. Stuck under the weight of his parents' expectations, Theo's best shot at leaving Vermont means first ensuring his parents' livelihood is secure. When a new fusion café threatens both shops, can they put aside their differences long enough to save their parents' businesses, or will the new feelings between them boil over?
To listen to this book, please click here.
The Thief, His Wife and the Canoe
Authors: David Leigh and Tony Hutchinson
Narrator: David Morely Hale
Drowning in debt and facing almost certain bankruptcy, John Darwin paddled out to sea in his canoe and disappeared. Nearly six years later, he miraculously returned from the dead with a strange tale of 'amnesia', sporting a suspicious tan. Journalist David Leigh was despatched to Panama, where he tracked down John's wife, Anne, who had started a secretive new life with the insurance money claimed from her husband's 'death'. But why did she move to Central America, thousands of miles away from her family and friends?
To listen to this book, please click here.
Who's Lying Now?
Author: Susan Lewis
Narrator: Sofia Zervudachi
Jeannie Symonds seems to have it all: a high-flying career, a happy marriage, a niece she adores. And then one day, she vanishes. Cara Jakes is a new trainee investigator who teams up with Detective Andee Lawrence to look into the disappearance, determined to find out what has really happened to Jeannie. Cara begins to question the residents of this close-knit community, sure that someone has a secret to hide. But how can she separate the truth from the lies?
To listen to this book, please click here.
A Wedding for the Biscuit Factory Girls
Author: Elsie Mason
Narrator: Joan Walker
Her wedding day should have been the happiest day of Mavis Kendricks's life. But the appearance of an unexpected guest ruins everything... and brings back painful memories Mavis would rather forget. It's not long before the war-torn streets of South Shields are buzzing with rumours. Who was the grand old lady at the wedding? How do Mavis and her twin brother own their own house? And just what is Mavis hiding? On the Sixteen Streets, nothing stays a secret for long...
To listen to this book, please click here.
Stringers
Author: Chris Panatier
Narrator: Greg Lockett
Ben has an immense breadth of knowledge. Whether it's natural science, or vintage timepieces, he can spout facts and information with the best of experts. He just can't explain why he knows any of it. Another thing he knows is the location of the Chime. What it is or why it's important, he can't say. But this knowledge is about to get him in a whole heap of trouble, as a trash-talking, flesh construct bounty hunter is on his tail and looking to sell him to the highest bidder.
To listen to this book, please click here.
The Half Life of Valery K
Author: Natasha Pulley
Narrator: Jot Davies
In 1963, nuclear specialist Valery Kolkhanov is swept from a Siberian Gulag to a mysterious unnamed town hidden within a forest so damaged it looks like the trees have rusted from within. Here, Dr. Kolkhanov is expected to serve out his prison term studying the effect of radiation on local animals. But as Valery begins his work, he is struck by the questions his research raises: what, exactly, is being hidden from the thousands who live in the town? And if he keeps looking for answers, will he live to serve out his sentence?
To listen to this book, please click here.
The Watchmaker of Filigree Street
Author: Natasha Pulley
Narrator: Thomas Judd
In 1883, a gold pocketwatch saves Thaniel Steepleton's life in a blast that destroys Scotland Yard. He goes in search of its maker, Keita Mori – a kind, lonely Japanese immigrant. Meanwhile, Grace Carrow is sneaking into an Oxford library, desperate to prove the existence of the luminiferous ether before her mother can force her to marry. As the lives of these three characters become entwined, events spiral out of control until Thaniel is torn between loyalties, futures and opposing geniuses.
To listen to this book, please click here.
The Breakfast Club Adventures
Authors: Marcus Rashford and Alex Falase-Koya
Narrator: Kenton Thomas
When twelve-year-old Marcus kicks his favourite football over the school fence, he knows he's never getting it back. Nothing that goes over that wall ever comes back. But when Marcus gets a mysterious note inviting him to join the Breakfast Club Investigators, he is soon pulled into an exciting adventure with his new mates Stacey, Lise and Asim to solve the mystery and get his football back!
To listen to this title, please click here.
A River Enchanted
Author: Rebecca Ross
Narrator: Ruth Urquhart
When the capricious spirits that live on the magical Isle of Cadence start to steal young girls, Adaira, heiress of the east, knows the spirits only answer to a bard's music, enticing them to return the missing. But there's only one bard capable of drawing the spirits forth by song: her childhood enemy, Jack Tamerlaine. As Jack and Adaira reluctantly work together it becomes apparent the trouble with the spirits is far more sinister than first thought and an older, darker secret lurks beneath the surface, threatening to undo them all.
To listen to this book, please click here.
Why Has Nobody Told Me This Before?
Author: Dr. Julie Smith
Narrator: The Author
Filled with secrets from a therapist's toolkit, this is a must-have handbook for optimising your mental health. Dr Julie's simple but expert advice and powerful coping techniques will help you stay resilient no matter what life throws your way. From managing anxiety, dealing with criticism or battling low mood, to building self-confidence, finding motivation or learning to forgive yourself, this book tackles the everyday issues that affect us all and offers easy, practical solutions that might just change your life.
To listen to this book, please click here.
The Bingo Hall Detectives
Author: Jonathan Whitelaw
Narrator: Sid Sagar
When it's discovered that Madeline Forbisher, one of Amita's fellow regulars at the Penrith Bingo Club has died, found by the postman outside her crumbling country home close to Ullswater Lake, she senses immediately this is no accident. The trouble is, no one else seems to take her suspicions seriously. That is, until she enlists the help of her friends at the bingo club. Dismissed by many as eccentric, over the hill or out of touch, it turns out that it's unlucky for some that these amateur sleuths are on the case...
To listen to this book, please click here.
A Terrible Kindness
Author: Jo Browning Wroe
Narrator: David Dawson
It is October 1966 when news hits of a landslide at a coal mine. It has buried a school: Aberfan. William Lavery decides he must act, so he stands and volunteers to attend. It will be his first job as an embalmer, and it will be one he never forgets. His work that night will force him to think about the little boy he was, and the losses he has worked so hard to forget. But compassion can have surprising consequences, because - as William discovers - giving so much to others can sometimes help us heal ourselves.
To listen to this book, please click here.
Voting for the Listening Books Members' Choice Award 2022 is now open until the 11th of November! If you're a Listening Books member and haven't yet cast your vote, please click here for access to our quick and easy voting form.
Not a Listening Books member? If you live in the UK and have an illness, disability or mental health condition which makes reading or holding a book more challenging, you could be eligible to join our audiobook lending service! Please click here to find out more.
Author: Emily Pye